Functional, High Tech and High Quality, The Ice-Pron Apron Makes the Perfect Gift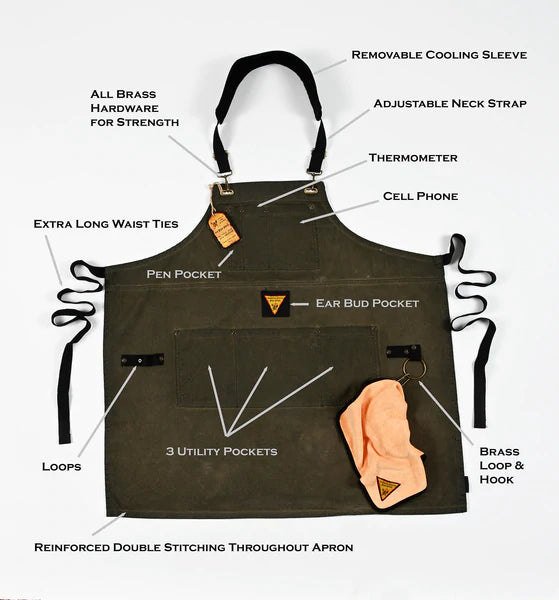 Inferno Phil's Outpost is excited to offer the Ice-Pron apron. This incredible cooking apron is not only functional, but also high tech and high quality. The Ice-Pron apron makes the perfect gift for the BBQ lover in your life.
The Ice-Pron apron is made of high-quality materials and will last the test of time. It features an adjustable neck strap that can be filled with a colling system to keep you nice and cool during the hottest grills and ovens.  It also has plenty of pockets and a copper ring perfect for holding grilling tools. If you're looking for a high quality, functional, and unique gift for the BBQ lover in your life, look no further than the Ice-Pron apron from Inferno Phil's Outpost.
Inferno Phil's Offers a Wide Range of BBQ Items and Artisen Hot Sauces
Looking to add some spice to your cooking? Inferno Phil's has got you covered! We offer a wide range of BBQ items, from our fantastic apron and cutting boards to our signature hot sauces.  Whether you're a beginner or a seasoned pro, we have the perfect items to up your cooking or grilling game. So shop with us at Inferno Phil's and get your grill on.
If you are passionate about BBQ, then you need the Ice-Pron apron. This apron is perfect for any cooking enthusiast. It is made with high quality materials and construction, so it will protect your clothes from any spills or splatters. The Ice-Pron apron is also comfortable to wear, thanks to its adjustable straps and comfortable fabric. Plus, the Ice-Pron Apron makes the perfect give, so browse our shop today: https://infernophil.com.